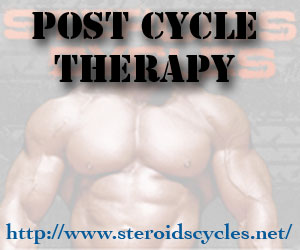 Post Cycle Therapy is the main question after you decided on what steroids you will use for your steroid cycle. And here are a few ways to go depending on how heavy cycle was. Since beginning I want to refer you to another good article regarding what supplements can be used to increase testosterone production and here it is: Supplements that increase testosterone production.
There are a few types of products used for steroid post/during cycle therapy and we will talk a little bit about each of them.
Clomid (Clomiphene Citrate)

Clomid stimulates the hypothalamus to, in turn stimulant the anterior pituitary gland to release gonadotrophic hormones.
The gonadotrophic hormones are follicle stimulating hormone (FSH) and luteinizing hormone (LH). Follicle Stimulating Hormone (FSH) stimulates the testes to produce more testosterone, and LH stimulates them to secrete more testosterone. This feedback mechanism is known as the hypothalamic-pituitary-testes axis (HPTA), and results in an increase of the body's own testosterone production.
Best way to take Clomid is to wait until androgen levels in our blood get lower and you can determine this according to next list: http://www.steroidscycles.net/steroids-half-life/
Take a look at the steroid you have used and count days when its levels in blood drops and start using clomid.
How To Use Clomid
Day 1 – Clomid 150mg/day
Day 2 – Clomid 100mg/day
Following 10 days – Clomid 50mg/day
Following 10 days – Clomid 50mg/day

Nolvadex (Tamoxifen Citrate)
Nolvadex is a SERM (Selective Estrogen-Receptor Modulator.) It selectively binds to certain estrogen receptors, effectively blocking the estrogen.
It may be used during steroid cycle in case you feel gyno symptoms at 10mg/day until gyno symptoms go away or for Post Cycle Therapy at dosage of 20mg/day for 4 weeks.
May be stacked with Clomid in some cases.
How To Use Nolvadex
20mg/day for 4 weeks after steroid cycle.
HCG
HCG – Human chorionic gonadotropin.
HCG's role is to stimulate Leydig cells in testes to produce testosterone even when there is not endogenous LH.
Leydig cells, also known as interstitial cells of Leydig, are found adjacent to the seminiferous tubules in the testicle. They produce testosterone in the presence of luteinizing hormone (LH). Leydig cells are polyhedral in shape, display a large prominent nucleus, an eosinophilic cytoplasm and numerous lipid-filled vesicles. (c) WIKIPEDIA
Now to main point, many use HCG after cycle in order to help restore natural testosterone production but we at steroidscycles dot net think that better to use HCG during heavy cycle in order to avoid testicular atrophy.
Using between 250IU-500IU max 1000IU per day each 4 weeks is a good choice. Here is good to add 10mg of nolvadex (tamoxifen citrate) in order to prevent estrogenic symptoms which may appear as a result of aromatisation.
HCG usage during cycle should be stopped with 6-7 weeks before you begin Post Cycle Therapy.
How To Use HCG
500-1000 IU/day each 4 weeks while on heavy steroid cycle
So, here we are with description for each product used to restore testosterone production. In combination with supplements (http://www.steroidscycles.net/post-cycle-therapy/supplements-that-increase-testosterone-production/) and hard training you will keep as much as possible of the gains you made while on steroid cycle.
Feel free to comment or ask on this subject via bodybuilding forum.

============================

We do not promote the use of anabolic steroids without a doctor's prescription. The information we share is for entertainment purposes only.

THIS IS NOT MEDICAL, LEGAL OR ANY OTHER TYPE OF ADVICE. SIDE EFFECTS ARE UNKNOWN SO THEREFORE DEATH AND SERIOUS BODILY INJURY MAY OCCUR. ONLY USE DRUGS, SUPPLEMENTS, OR EXERCISE UNDER YOUR DOCTORS DIRECTION.
Keep in mind that steroids are not magic and in order to get results user must train correct and hard, eat clean and keep right balance of carbs, protein and fats.
Once per year bloodwork must be done in order to see what is going on inside your body and to keep an eye on health status.
The guys who stay all year round on gear with no breaks are not wise.

============================