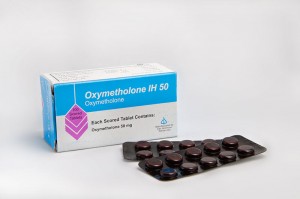 Oxymetholone Post Cycle Therapy | Anadrol Post Cycle Therapy
Oxymetholone is the strongest and in the same time most effective oral steroid. First thing I want to underline is that Oxymetholone is 17-alkylated and it affects liver so better to use Liv52 during and after cycle.
If you can't find Liv52 use Milk Thistle. Important thing here is to protect liver.
Also for the same reason I would not recommend using Oxymetholone longer than 6 weeks.
Now regarding post cycle therapy. Actually this will vary from case to case in dependency from other steroids used in combination with Oxymetholone.
I guess many of you will use it in combination with testosterone and in this case Oxymetholone Post Cycle Therapy would be next:
HCG used each fourth week at 250IU per week.
Nolvadex used 4 weeks after cycle at 20mg/day
That's it.
Take care.
If you found this post useful for you we would appreciate your way of saying thank you.

============================

We do not promote the use of anabolic steroids without a doctor's prescription. The information we share is for entertainment purposes only.

THIS IS NOT MEDICAL, LEGAL OR ANY OTHER TYPE OF ADVICE. SIDE EFFECTS ARE UNKNOWN SO THEREFORE DEATH AND SERIOUS BODILY INJURY MAY OCCUR. ONLY USE DRUGS, SUPPLEMENTS, OR EXERCISE UNDER YOUR DOCTORS DIRECTION.
Keep in mind that steroids are not magic and in order to get results user must train correct and hard, eat clean and keep right balance of carbs, protein and fats.
Once per year bloodwork must be done in order to see what is going on inside your body and to keep an eye on health status.
The guys who stay all year round on gear with no breaks are not wise.

============================