Equipoise, commonly referred to as EQ, is a testosterone-derived anabolic steroid that exhibits a diminished androgenic nature when compared to typical testosterone levels.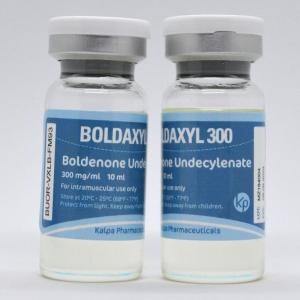 EQ, also known as Boldenone, may not offer the same mass gains as testosterone, but it presents several advantages in terms of performance and a reduced likelihood of side effects. This makes it an attractive option for beginners who want to avoid potent estrogenic side effects. Advanced users can combine Equipoise with other steroids for targeted outcomes.
Author's Note: This guide is based on personal experience and does NOT endorse the illegal use of steroids (PEDs).
What is Equipoise?
Equipoise (Boldenone Undecylenate) is a unique anabolic steroid derived from the testosterone hormone. Its chemical structure varies slightly, distinguishing it from testosterone.

Equipoise contains the attached ester Undecylenate, which ensures a gradual release of the steroid into the body for up to three weeks after injection.
It takes several days for the blood concentration of Boldenone to peak post-injection.
Primarily intended for veterinary use, EQ is commonly employed in equine medicine due to its name ("equi" indicating its intended use in horses).
However, bodybuilders are also attracted to the effects of Equipoise, which closely resemble those of testosterone.
Notably, EQ exhibits enhanced protein synthesis, increased muscle nitrogen retention, elevated red blood cell count, heightened insulin-like growth factor 1 (IGF-1) production, and reduced stress hormones.
Equipoise possesses an anabolic to androgenic ratio of 100:50, compared to testosterone's even 100:100 ratio.
Although Equipoise shares a nearly identical chemical structure with the renowned compound Dianabol, slight modifications result in distinct effects on the body.
Consequently, these similar yet differently acting steroids can be utilized together in a cycle to yield significant benefits.
Equipoise Dosage
Equipoise is a steroid that does not benefit from very high doses. Therefore, users of any experience level should consider maintaining a similar dose.
Keeping in mind that higher doses may increase the likelihood of estrogenic effects.
Moderate doses of EQ have manageable estrogen-related activity, with effective male doses typically ranging from 200mg to 600mg.
Beginner and Intermediate Equipoise Dosage
The optimal weekly dose of Equipoise for both beginners and more advanced users is between 400mg and 600mg.
Beginners can start with a low dose of 200mg weekly, but to truly experience the benefits of EQ.
It is recommended to administer no less than 400mg per week. At this dosage, side effects caused specifically by EQ can be easily controlled while providing positive results.
For more advanced users, the dose can be increased to 600mg weekly.
However, it is important to note that higher doses carry a greater risk of estrogenic effects. Higher doses also result in increased aromatization activity without significant additional benefits.
Therefore, it is advisable to stay within the optimal range of 400mg to 600mg per week, regardless of experience level.
Equipoise Female Dosage
Females can use Equipoise with good results and fewer severe side effects compared to many other steroids. This is due in part to the lower androgenic effects of EQ.
However, it's important to note that this is only the case at lower doses. Once the dosage is increased, the side effects can become more severe.
For most women, a dose of 50mg weekly is considered both effective and safe when taking steroids, with a low risk of virilization.
While some women may choose to increase the dosage, it should only be done after determining how Equipoise affects you individually, as the side effects can vary greatly.
To strike a balance between benefits and minimizing side effects.
It is recommended for females to have a maximum cycle length of 6 weeks. Prolonged usage of Equipoise increases the likelihood of developing side effects.
Equipoise Cycles
Equipoise/Testosterone Cycle
Since Equipoise does not make the body retain much water bloating is not a problem. So you can be sure that what you have is lean muscle not water weight.
The Equipoise cycle usually takes 4-6 weeks before the steroid takes effect. With Equipoise the effects start kicking in around the 6th week of the cycle. Equipoise cycle done for 10 – 12 weeks will be optimal. The recommended dosage in an Equipoise cycle is 200-400mg per week.
Be sure to use PCT after this cycle to retain your gains and to kick start your natural test levels.
| WEEKS | PRODUCT | DOSAGE |
| --- | --- | --- |
| 1-10 | Testosterone | 500mgs/week |
| 1-10 | Equipoise | 400mgs/week |
Equipoise/Primobolan Cycle
14 Weeks Primobolan and EQ cycle lean bulk
WEEKS
PRODUCT
DOSAGE
1-14
Primobolan Depot
800mg/week
1-14
Boldenone (EQ)
400mg/week
1-14
Testosterone Enanthate/Cypionate
500mg/week
17-19
PCT with Clomid
Day 1 – Clomid 150mg/day
Day 2 – Clomid 100mg/day
Following 10 days – Clomid 50mg/day
Following 10 days – Clomid 50mg/day
*if needed continue with 10 days more
as an option
winstrol can be added on Weeks 1-6 @ 50mg winny depot EOD
Equipoise Steroid Cycle for Vascularity
14 weeks for vascularity Equipoise steroid cycle
| WEEKS | PRODUCT | DOSAGE |
| --- | --- | --- |
| 1-14 | Boldenone | 2ml/week |
| 1-14 | Testosterone | 2ml/week |
| 9-14 | Anavar | 60mg/day |
Equipoise/ Sustanon/Turanabol Cycle
Sustanon Boldenone and Turanabol Steroid Cycle for muscle size gain
WEEKS
PRODUCT
DOSAGE
1-5
Turanabol
40mg/day
1-14
Sustanon
2ml/week
1-14
Boldenon
2ml/week
17-19
PCT
Day 1 – Clomid 150mg/day
Day 2 – Clomid 100mg/day
Following 10 days – Clomid 50mg/day
Following 10 days – Clomid 50mg/day
*if needed continue with 10 days more
Equipoise Benefits
Equipoise, often referred to as EQ, can be considered a milder version of testosterone. It shares a basis with testosterone but has reduced anabolic effects. However, this does not diminish its usefulness as a steroid, as it offers versatility beyond just muscle and strength gains.
Here are the main benefits and effects of using Equipoise:
Moderate Mass Gains:

Despite not being a powerful muscle gainer like testosterone, EQ still contributes to clean gains with minimal water retention due to its reduced estrogenic action.
EQ's muscle gains may be slower and steadier compared to other steroids, making it a suitable addition to a bulking stack as a secondary mass gaining compound.

Preserving Lean Muscle:

One of the most valued aspects of EQ is its ability to retain lean tissue during cutting cycles.
Using EQ in combination with other non-aromatizing steroids, such as Masteron, can enhance body conditioning during cutting.

Appetite Increase:

EQ may increase appetite, although this effect varies between individuals. Some may experience a noticeable increase, while others may not experience any changes.
Increased appetite can be beneficial during a mass gaining cycle but may be considered a downside during a calorie-restricted diet in cutting phases.

Strength and Endurance Gains:

While not the most potent strength boosting steroid, EQ still provides moderate increases in strength.
EQ also improves endurance, which benefits athletes in various types of workouts.
Expect improved recovery times when using EQ.
While the performance benefits of Equipoise may not be as noticeable when combined with more potent steroids, they still contribute to the overall effects of any steroid cycle.
============================
We do not promote the use of anabolic steroids without a doctor's prescription. The information we share is for entertainment purposes only.
THIS IS NOT MEDICAL, LEGAL OR ANY OTHER TYPE OF ADVICE. SIDE EFFECTS ARE UNKNOWN SO THEREFORE DEATH AND SERIOUS BODILY INJURY MAY OCCUR. ONLY USE DRUGS, SUPPLEMENTS, OR EXERCISE UNDER YOUR DOCTORS DIRECTION.

Keep in mind that steroids are not magic and in order to get results user must train correct and hard, eat clean and keep right balance of carbs, protein and fats. Once per year bloodwork must be done in order to see what is going on inside your body and to keep an eye on health status. The guys who stay all year round on gear with no breaks are not wise.
============================