Masteron Cycle, results dosage and side effects are discussed in this article. Probably you are looking for drostanolone propionate (masteron) cycle because you want to get high muscle definition.
Masteron was launched on market around 70's when it hit market under the same name. Later besides its use in medicine it became popular as cutting steroid among bodybuilders.
We know two types of Masteron: short ester and long ester. Drostanolone Propionate (Masteron 100) and second one where active substance is Drostanolone Enanthate (Masteron 200).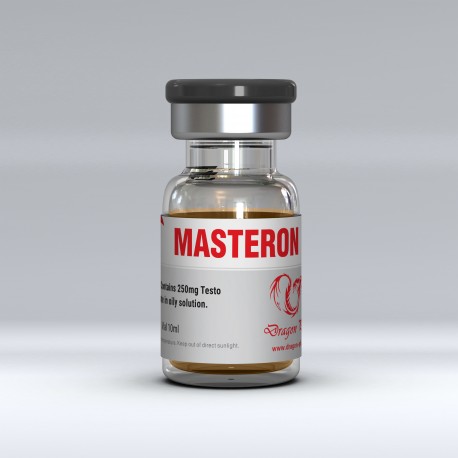 Propionate is short ester and Enanthate is long esters.
Since short ester is quicker out of the blood it will be injected every other day and we will inject Enanthate version once or twice per week due to slower release time.
Ok back to the subject. Best time to do Masteron steroid is when you are already lean and want some…perfection 🙂 Well, may be that that is why it competing bodybuilders love it since they will pay attention to details and will see the difference.
Masteron Steroid Cycle Side Effects
Inhibit natural testosterone production so a PCT plan with Clomid is a must as it is with any steroids.
Mai increase hair loss if you have predisposition.
Will increase LDL cholesterol and decrease HDL cholesterol.
Drostanolone Propionate Dosage
WEEKS
PRODUCT
DOSAGE
1-8
Masteron (Drostanolone Propionate)
100mg/EOD
1-8
Testosterone Propionate
100mg/EOD
9-12
PCT
Day 1 – Clomid 150mg/day
Day 2 – Clomid 100mg/day
Following 10 days – Clomid 50mg/day
Following 10 days – Clomid 50mg/day
*if needed continue with 10 days more
** take tabs with food
Drostanolone Enanthate requires to do less injections like 1-2 injections per week however total dosage will is the same around 400mg/week.
Is Masteron good idea for the first cycle?
I will not recommend using Masteron for your first cycle.
Helpful Links
============================
We do not promote the use of anabolic steroids without a doctor's prescription. The information we share is for entertainment purposes only.
THIS IS NOT MEDICAL, LEGAL OR ANY OTHER TYPE OF ADVICE. SIDE EFFECTS ARE UNKNOWN SO THEREFORE DEATH AND SERIOUS BODILY INJURY MAY OCCUR. ONLY USE DRUGS, SUPPLEMENTS, OR EXERCISE UNDER YOUR DOCTORS DIRECTION.

Keep in mind that steroids are not magic and in order to get results user must train correct and hard, eat clean and keep right balance of carbs, protein and fats. Once per year bloodwork must be done in order to see what is going on inside your body and to keep an eye on health status. The guys who stay all year round on gear with no breaks are not wise.
============================