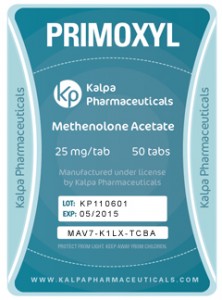 Primobolan Steroid Cycle | Oral Primo Steroid Cycle | Safe Steroid Cycle | Methenolone Acetate Steroid Cycle Chart
If you are here most probably you were looking for an oral safe cycle. Many people want to start but they want to stay away from injectables. Others want to do a safe steroid cycle and they automatically think that oral is best way as they dont inject anything and most of us are used with medicine tabs.
So why I chose Primobolan for this article? Generally speaking primobolan is one of the safest steroids and some consider it a king among steroids.
So why oral primobolan may be one of the safest oral steroid cycles? Well firstly all oral steroids are 17A which means they pass the liver and avoid excretion and this puts much stress on liver.
How about oral Primobolan? This is the only oral steroid which is not 17A. Now this does not mean you can take it as vitamins but it is much safer than other oral steroids.
So, if you are one of those guys who just want to get a taste on how steroids works but in the same time keep yourself as safe as possible oral primobolan cycle may be an option.
Here is an example of one of many ways to use oral primobolan. Testosterone Propionate can be used as a base of this cycle bu that is a subject of another article.
Weeks

Primobolan Tabs


Clomixyl


Water

1-8

100mg/day

9-11

50mg/day

1-15


2 liters/day

ED – every day; EOD – every other day;