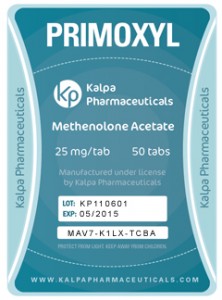 Primobolan Steroid Cycle | Oral Primo Steroid Cycle | Safe Steroid Cycle | Methenolone Acetate Steroid Cycle Chart
If you are here most probably you were looking for an oral safe cycle. Many people want to start but they want to stay away from injectables. Others want to do a safe steroid cycle and they automatically think that oral is best way as they dont inject anything and most of us are used with medicine tabs.
So why I chose Primobolan for this article? Generally speaking primobolan is one of the safest steroids and some consider it a king among steroids.
So why oral primobolan may be one of the safest oral steroid cycles? Well firstly all oral steroids are 17A which means they pass the liver and avoid excretion and this puts much stress on liver.
How about oral Primobolan? This is the only oral steroid which is not 17A. Now this does not mean you can take it as vitamins but it is much safer than other oral steroids.
So, if you are one of those guys who just want to get a taste on how steroids works but in the same time keep yourself as safe as possible oral primobolan cycle may be an option.
Here is an example of one of many ways to use oral primobolan. Testosterone Propionate can be used as a base of this cycle but that is a subject of another article.
Weeks

Primobolan Tabs


Clomixyl


Water

1-8

100mg/day

9-11

50mg/day

1-15


2 liters/day

ED – every day; EOD – every other day;
I want more information on Kalpa and their oral Primobolan
Ok, you can read some reviews and add yours on next links or you may search online for others.
We do not promote the use of anabolic steroids without a doctor's prescription. The information we share is for entertainment purposes only.
THIS IS NOT MEDICAL, LEGAL OR ANY OTHER TYPE OF ADVICE. SIDE EFFECTS ARE UNKNOWN SO THEREFORE DEATH AND SERIOUS BODILY INJURY MAY OCCUR. ONLY USE DRUGS, SUPPLEMENTS, OR EXERCISE UNDER YOUR DOCTORS DIRECTION.

Keep in mind that steroids are not magic and in order to get results user must train correct and hard, eat clean and keep right balance of carbs, protein and fats. Once per year bloodwork must be done in order to see what is going on inside your body and to keep an eye on health status. The guys who stay all year round on gear with no breaks are not wise.