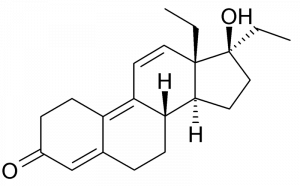 Tetrahydrogestrinone (THG) is a synthetic anabolic steroid. Anabolic steroids stimulate the muscle and bone cells to make new protein. They increase muscle strength and encourage new muscle growth, duplicating the effects of the male sex hormone testosterone, thereby allowing the athlete to train harder for longer periods of time.
THG is a slightly altered form related to steroids Gestrinone and Trenbolone. According to Dr. Catlin, it's a clear liquid taken orally. He said THG was specifically designed to escape detection in normal dope tests by disintegrating when a urine sample is tested. Catlin's lab designed a new test for the drug, which has now been provided to the 30 IOC-accredited labs, including the one in Montreal.
Gestrinone is used legally in Europe to treat endometriosis, a painful condition caused by uterine tissue growing in the abdomen. It is chemically related to Trenbolone, a steroid used by cattle producers to bulk up their herds.
On Oct. 28, the U.S. Food and Drug Administration formally declared the new steroid illegal, not a dietary supplement. FDA Associate Commissioner John Taylor also warned anabolic steroids, including THG, can have dangerous side-effects, including liver damage, heart disease, anxiety and rage.
On Nov. 5, the IOC and WADA officially banned the newly-discovered designer drug, adding it to its list of prohibited substances to test for in competition and out-of-competition doping tests. The main reason was the similarity in its chemical structure to the steroid Gestrinone, already on the banned list.
What are the side-effects of THG?
The U. S. Anti-Doping Agency says that THG is so new that no known research studies have been carried out on it. It warns however, "The unusual side-effects with the use of some steroids that could also be exhibited by THG include liver toxicity, excessive hair growth for women and baldness and infertility in men."

============================

We do not promote the use of anabolic steroids without a doctor's prescription. The information we share is for entertainment purposes only.

THIS IS NOT MEDICAL, LEGAL OR ANY OTHER TYPE OF ADVICE. SIDE EFFECTS ARE UNKNOWN SO THEREFORE DEATH AND SERIOUS BODILY INJURY MAY OCCUR. ONLY USE DRUGS, SUPPLEMENTS, OR EXERCISE UNDER YOUR DOCTORS DIRECTION.
Keep in mind that steroids are not magic and in order to get results user must train correct and hard, eat clean and keep right balance of carbs, protein and fats.
Once per year bloodwork must be done in order to see what is going on inside your body and to keep an eye on health status.
The guys who stay all year round on gear with no breaks are not wise.

============================