Somatrox HGH Cycle byZerox Pharmaceuticals Steroids company on Steroids Cycles Blog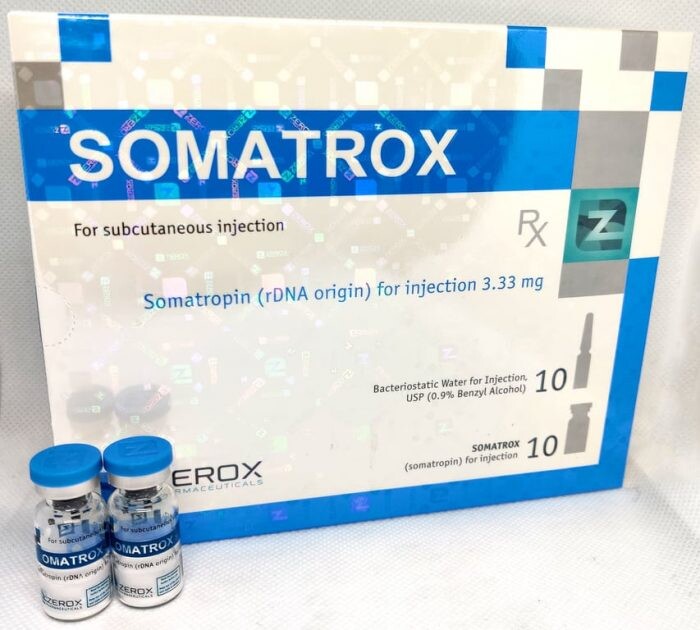 So for efficient muscle growth your HGH cycle will look this way:
4-6 months @ 6-10iu/day. If money is a problem you can start 1 month with 5iu/day.
To anticipate some questions: yes you can stay on it 3 month too only on 5iu/day. This will give some muscle growth and fat loss effect.
Important: if this is your first hgh cycle better start with low doses @ 2iu/day for first 1-2 weeks.
You can stack it with some testosterone and primo for 10-12 weeks. You can start Somatrox hgh cycle and after 1 month add steroid cycle while being on hgh.
Regarding taking Zerox hgh before bed I will quote: it is clear that the closer we push our injection to the time our body is ready to give us its biggest pulses of HGH, we are going to end up derailing our own triggers and secretion.
Don't forget to train hard and stimulate muscles via new training methods.
Syringes:U100 insulin syringe for injecting HGH for sale is what you need.
We do not promote the use of anabolic steroids without a doctor's prescription. The information we share is for entertainment purposes only.
THIS IS NOT MEDICAL, LEGAL OR ANY OTHER TYPE OF ADVICE. SIDE EFFECTS ARE UNKNOWN SO THEREFORE DEATH AND SERIOUS BODILY INJURY MAY OCCUR. ONLY USE DRUGS, SUPPLEMENTS, OR EXERCISE UNDER YOUR DOCTORS DIRECTION.

Keep in mind that steroids are not magic and in order to get results user must train correct and hard, eat clean and keep right balance of carbs, protein and fats. Once per year bloodwork must be done in order to see what is going on inside your body and to keep an eye on health status. The guys who stay all year round on gear with no breaks are not wise.