Hi, looking for information on Dynabol cycle?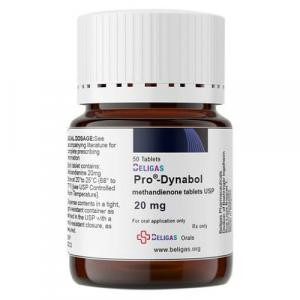 Dynabol stand for Metandienone, also known as methandienone or methandrostenolone and sold under the brand name: Dbol, Dianabol, Danabol and others.
Dynabol is anabolic/androgen oral steroid for bulking and strength steroid cycles.
Some people consider dinabol cycle for their first cycle. Is that a good or bad idea?
Well it depends on user's goal.
If he wants to try how it works and wont go longer than 4 weeks that may be an option however if he considers this as his first serious cycle then below are some things to consider:
Metandienone will stop natural testosterone production so user will need some testosterone to function normally;
Metandienone will keep some water and it will be gone once cycle is over;
To get better and lasting results better to stack it with testosterone injections;
Post Cycle Therapy is mandatory;
Tabs are taken with food;
This product is NOT for women!
Below is an example of how a short Beligas Dinabol cycle may look like
WEEKS
PRODUCT
DOSAGE
1-4
dynabol
30mg/day
5-7
PCT Clomid
Day 1 – Clomid 150mg/day
Day 2 – Clomid 100mg/day
Following 10 days – Clomid 50mg/day
Following 10 days – Clomid 50mg/day
*if needed continue with 10 days more
============================
We do not promote the use of anabolic steroids without a doctor's prescription. The information we share is for entertainment purposes only.
THIS IS NOT MEDICAL, LEGAL OR ANY OTHER TYPE OF ADVICE. SIDE EFFECTS ARE UNKNOWN SO THEREFORE DEATH AND SERIOUS BODILY INJURY MAY OCCUR. ONLY USE DRUGS, SUPPLEMENTS, OR EXERCISE UNDER YOUR DOCTORS DIRECTION.

Keep in mind that steroids are not magic and in order to get results user must train correct and hard, eat clean and keep right balance of carbs, protein and fats. Once per year bloodwork must be done in order to see what is going on inside your body and to keep an eye on health status. The guys who stay all year round on gear with no breaks are not wise.
============================