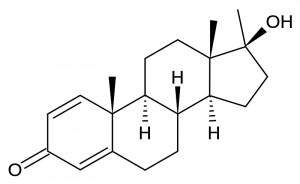 Type: Oral Steroid
Substance: Methandrostenolone/Methandienone
Half-life: 4.5-6 hours
Trading names: Anabol, Methanabol, Naposim
This is the most popular oral steroids for many many years. It is known for such names like: Anabol, Dianabol, Danabol, Methanabol, Methanoplex, Methan, Naposim etc. Methandrostenolone was originally developed by John Ziegler in 1960 and since then its popularity only grew up.
Methandrostenolone(or dbol as it's commonly called) was and is very popular among powerlifters because of its ability to give strength and power.
Methandrostenolone is widely used among bodybuilders who wants more muscles and strength.
Methandrostenolone/Methandienone users may expect better protein synthesis, muscle growth, protein synthesis, glycogenolysis, increase in anaerobic glycolysis(2) ,and muscle strength.
Methandrostenolone retains water so gynecomastia is a concern for sensitive athletes.
The drug causes severe masculinising effects in women even at low doses.
"In the early 1960s, doctors commonly prescribed a tablet per day for women as a tonic. This use was quickly discontinued upon discovery of the heavily masculinising effects of methandrostenolone."(1)
Methandrostenolone/Methandienone is 7α-alkylated steroid which means that it will affect negatively your liver if you will take it for long time (over 6 weeks in dosages higher than 40mg/day). So it is wise to use Liv52, Choliver or Milk Thistle in order to preserve health of your liver.
There were done some studies on osteoporosis which showed that dbol was effective in reducing osteoporotic activity which is a good news. You may ask why this is important for me but we as bodybuilders must know that calcium is very important for us as it transports amino-acids and creatine which are vital for muscle growth.
Steroid cycles with Methandrostenolone:
CYCLE #1
Weeks 1-4: Methandrostenolone 30-40mg/day
Weeks 1-12: Testosterone Enanthate/Cypionate 500mg/week
CYCLE #2
Weeks 1-4: Methandrostenolone 30-40mg/day
Weeks 1-12: Testosterone Enanthate/Cypionate 500mg/week
Weeks 7-12: Stanozolol at 50mg/ EOD
References:
1. Wikipedia
2. Zingg W (October 1965). "The effect of methandrostenolone on nitrogen excretion following open-heart surgery". Can Med Assoc J 93 (15): 816–7. PMID 5318132.
3.

============================

We do not promote the use of anabolic steroids without a doctor's prescription. The information we share is for entertainment purposes only.

THIS IS NOT MEDICAL, LEGAL OR ANY OTHER TYPE OF ADVICE. SIDE EFFECTS ARE UNKNOWN SO THEREFORE DEATH AND SERIOUS BODILY INJURY MAY OCCUR. ONLY USE DRUGS, SUPPLEMENTS, OR EXERCISE UNDER YOUR DOCTORS DIRECTION.
Keep in mind that steroids are not magic and in order to get results user must train correct and hard, eat clean and keep right balance of carbs, protein and fats.
Once per year bloodwork must be done in order to see what is going on inside your body and to keep an eye on health status.
The guys who stay all year round on gear with no breaks are not wise.

============================