Odin Pharma Testosterone Cycle.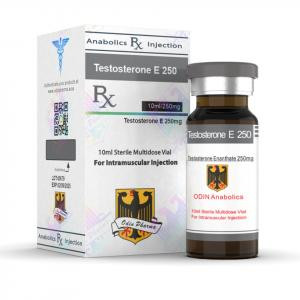 Testosterone is male hormone and Odin Steroids Testosterone Cycle is one of the most popular steroids cycles. Testosterone is also used in TRT for older men.
Odin Pharma has a wide range of products and if you are looking for full range of products and its reviews you can follow next link Odin Pharma Reviews.
Today we will talk about basic Testosterone Cycle made of their Testosterone E 250 or Testosterone C 200 for 12 weeks followed by PCT.
This is a bulking steroid cycle and if you are looking for other Bulking Steroids Cycles click here: https://www.steroidscycles.net/category/bulking-steroid-cycles/
Keep training hard and eating right as well as rest enough. No smoking and no alcohol!
WEEKS
PRODUCT
DOSAGE
1-12
Testosterone Enanthate or Cypionate
2ml/week
15-17
Clomid
Day 1 – Clomid 100mg
Day 2 - Clomid 100mg
Following 20 days – Clomid 50mg
*If needed you can take it for 5-7 days more at 25mg/day dosage.
TABS are taken with food.
Please keep in mind that this is not something for newbies or unexperienced guys. Do your homework, study, read.
============================
We do not promote the use of anabolic steroids without a doctor's prescription. The information we share is for entertainment purposes only.
THIS IS NOT MEDICAL, LEGAL OR ANY OTHER TYPE OF ADVICE. SIDE EFFECTS ARE UNKNOWN SO THEREFORE DEATH AND SERIOUS BODILY INJURY MAY OCCUR. ONLY USE DRUGS, SUPPLEMENTS, OR EXERCISE UNDER YOUR DOCTORS DIRECTION.

Keep in mind that steroids are not magic and in order to get results user must train correct and hard, eat clean and keep right balance of carbs, protein and fats. Once per year bloodwork must be done in order to see what is going on inside your body and to keep an eye on health status. The guys who stay all year round on gear with no breaks are not wise.
============================