Testosterone Cypionate vs Enanthate water retention at SteroidsCycles.net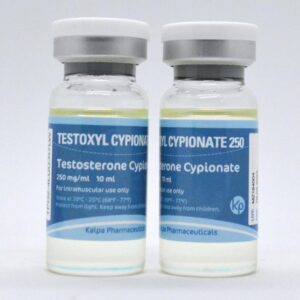 If you are thinking or better said overthinking on the subject of which one to choose for less water retention then short answer is: do not waste time just buy the one you get best deal on or the one which is available.
Yeah the Kalpa Enanthate has a 7-carbon ester chain while cypionate has an 8-carbon ester chain and as we know the more carbons the ester group has, the more soluble in oil and the less soluble in water it becomes so Testosterone Cypionate is considered to give more water retention while Enanthate is faster on release.
Now in real life you wont likely to notice a real life changing difference since they are very similar.
You can notice small difference from brand to brand and more due to different solvents and their concentration but again the difference will be so small that it wont affect your final results so it be worth of looking specifically for one or another.
Far more important here is your diet and workout routine. So between test cyp and enanthate just go with the one that is available however there is always the option to try both in different cycles and have own experience.
Feel free to share your experience on our Steroids forum.

============================

We do not promote the use of anabolic steroids without a doctor's prescription. The information we share is for entertainment purposes only.

THIS IS NOT MEDICAL, LEGAL OR ANY OTHER TYPE OF ADVICE. SIDE EFFECTS ARE UNKNOWN SO THEREFORE DEATH AND SERIOUS BODILY INJURY MAY OCCUR. ONLY USE DRUGS, SUPPLEMENTS, OR EXERCISE UNDER YOUR DOCTORS DIRECTION.
Keep in mind that steroids are not magic and in order to get results user must train correct and hard, eat clean and keep right balance of carbs, protein and fats.
Once per year bloodwork must be done in order to see what is going on inside your body and to keep an eye on health status.
The guys who stay all year round on gear with no breaks are not wise.

============================