Serge Nubret Steroid Cycle on Steroids Cycles Blog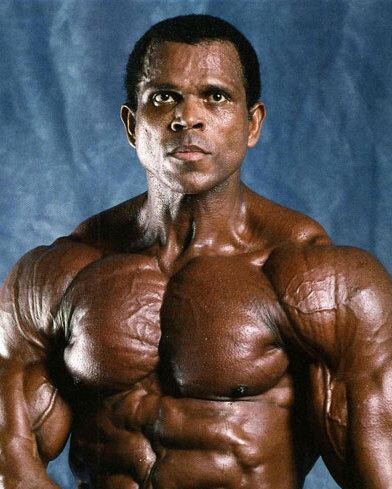 This article was written after reading many others on web. We did not talk directly with Serge Nubret to ask what he used in those days so treat this information as some food for thought.
Generally speaking we at steroidscycles.net think that bodybuilders in golden age era used less gear but paid more attention to workouts, cardio and nutrition. HOWEVER taking into consideration that today steroids can be of lower quality the dosages taken are bigger which shocks guys from golden era 🙂
Many todays just drive their car wherever it is possible. Do some little cardio and expect miracles from gear.
Anyway the knowledge today about steroids is at another level and more we know better for us since you have to know what you put into your body and how it works.
The information here is based mostly on what bodybuilders used in those days.
Serge Nubret Steroid Cycle – Hard Work is Always Nr.1
So here are most popular products back then: Deca, Primo, Dbol, Parabolan, Sustanon, Testosterone, Winstrol and Anavar.
Many cycles back than looked like this:
Dbol 50-80mg/day
Deca 400mg/week
Many in those days did not use Testosterone as a base. This is somehow related to bad effect on skin of androgens…. this still must be researched.
Another cycle of two products may have been next:
Primobolan 700mg/week
Dbol – 50mg/day
Cycle length is hard to know because nobody will tell. However we dont need that info since we know that longer the cycle harder the shutdown so it is best to not go longer than 14 weeks.
Another combo which is considered to used back then:
Primobolan – 600mg/week
Deca – 400mg/week
Dbol 40-80mg/day (they were doing the pyramid, when you change dosage up and down during cycle)
Regarding using dbol at that high dosage we know that it is not good for liver and how did they handle it back then we dont know either the nutrition was cleaner. Than it is know so the liver would not be affected by other factors or the information is wrong and they used not more than 30mg/day.
There are still lots of questions but best answer is to follow clean nutrition. Work hard, rest enough to recover and adjust everything to YOUR BODY because everyone is different.
Oh yes and we want to read your comments on test and skin.
============================
We do not promote the use of anabolic steroids without a doctor's prescription. The information we share is for entertainment purposes only.
THIS IS NOT MEDICAL, LEGAL OR ANY OTHER TYPE OF ADVICE. SIDE EFFECTS ARE UNKNOWN SO THEREFORE DEATH AND SERIOUS BODILY INJURY MAY OCCUR. ONLY USE DRUGS, SUPPLEMENTS, OR EXERCISE UNDER YOUR DOCTORS DIRECTION.

Keep in mind that steroids are not magic and in order to get results user must train correct and hard, eat clean and keep right balance of carbs, protein and fats. Once per year bloodwork must be done in order to see what is going on inside your body and to keep an eye on health status. The guys who stay all year round on gear with no breaks are not wise.
============================