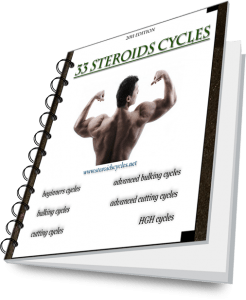 Have you ever been in a situation when you need a steroid cycle and you want to get it asap, you want to have it ready, you want to have it all put into a table with clear understanding what and when to use, you want to be able to print it?
Well, once we were in the same situation and we know what it is like to loose hours looking for info or registering on some forums and waiting for an adequate reply in timely manner.
Now, the problem is solved, you can have everything put together.
We made this special ebook with more than 33 steroids cycles put together.
Each cycle stays in its category (cutting cycle, bulking cycle) and has clear description on how and when each product must be taken.
You can print any page and keep it in your training journal.
Also we made a special page with special table for own cycle log where you simple introduce needed products and keep log of when and how much you took. This way is simple to track your steroid cycle in order to not forget anything.
This E-Book includes:
– beginners cycles
– bulking cycles
– cutting cycles
– advanced cycles
– HGH cycles
– steroids cycles for all goals
If you want to
– save time
– to have all cycles together
– to have authentic information on how steroids must be stacked
than this ebook is for you.
If you are interested ten click this link now in order to get more information on how you can take your copy of 33 steroids cycles ebook: Contact ( http://www.steroidscycles.net/contact-us/ )