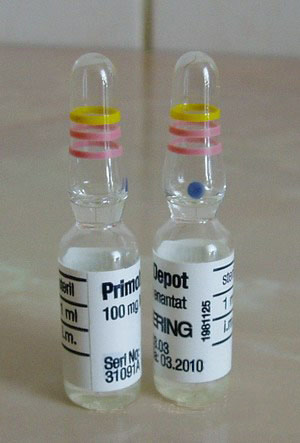 Primobolan Steroid Cycle.
Primobolan is one of the safest steroids on the planet and is well know among many bodybuilders as their preffered choice even its price is not low. However in many cases people prefer to pay more and remain on safe side.
Primobolan can be in tablets and injections. First has active substance called Methenolone Acetate and second one is Methenolone Enanthate.
Primobolan does not aromatize and that is why it is one of the most preffered steroids. Also primobolan is one of the safest steroids which again makes it very popular and recommended.
Actually if you want a safe cycle with moderated results in quality muscle gains Injectable Primobolan and Anavar tablets is one of the choices you have.
It is worth mentioning that even Primobolan is so advertised as safest, hair loss and acne may be an issue for some of you. However hair loss is more related to your genetics acne may appear on back or shoulders of some of you of course this depends on the dosage and cycle length.
Here I will show you two steroid cycles with primobolan. You can get this article in PDF simply by submitting your email to the form below.
Primobolan Steroid Cycle N1
Weeks
Anavar
Primobolan Injectable



Nolvadex
1-6
40-50mg/day
1-12
600mg/week


14-17
20Mg/ED
ED – every day, EOD – every other day; HCG is used each 4th week @250iu/week
Primobolan Steroid Cycle N2
Weeks
Testosterone Propionate

Primobolan Injectable



Nolvadex
1-12
100mg/EOD
1-12
600mg/week


14-17
20Mg/ED
ED – every day, EOD – every other day; HCG is used each 4th week @250iu/week