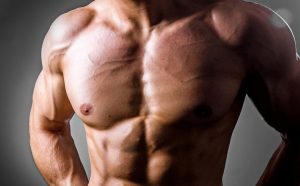 First steroid cycle can be and must be simple. One of the options is testosterone cypionate.
I know many recommend enanthate but listen they are almost the same so just get whichever you have access to.
Also well known is similar cycle where Dbol is used as a kickstart for the first 4-5 weeks. That is also an option and it works as well.
However today we will talk about simple and cost efficient option – 10 weeks testosterone cypionate cycle at 1ml/week.
So why Cypionate? Because it is a long acting steroid ester and you can inject it once per week which is good for beginners. Generally speaking people are afraid of injections so not having to inject often may be a good thing for most.
Why 10 weeks? Because that is enough to get a feeling of how it works, how your body reacts to it and in the same time most important get results.
Why 1ml/week? Because that is a good dosage to keep sides low and still get results. Remember golden age bodybuilders? They looked great and live long and they used moderate dosages. Many modern bodybuilders forgot about moderation and that is not good for many reason.
Ok, enough talk here is 10 weeks first steroid cycle with testosterone cypionate.
— testosterone cypionate 10 weeks steroid cycle —
WEEKS
1-10 Testosterone Cypionate -1ml/week
— testosterone cypionate 10 weeks steroid cycle —
Most important thing after any steroid cycle is PCT (Post Cycle Therapy). For PCT we use Clomid. This is the product which helps body restore natural testosterone production.
After this 10 weeks testosterone cypionate cycle PCT will be started 2 weeks after last injection of testosterone.
Below is how Clomid must be used during PCT after steroid cycle.
Day 1 – Clomid 150mg/day
Day 2 – Clomid 100mg/day
Following 10 days – Clomid 50mg/day
Following 10 days – Clomid 50mg/day
P.S. Exactly same cycle can be done with testosterone enanthate.
Train hard, eat clean and rest enough.
To discuss this go to the bodybuilding forum we recommend. Click here.
Keep in mind that steroids are not magic and in order to get results user must train correct and hard, eat clean and keep right balance of carbs, protein and fats.
Once per year bloodwork must be done in order to see what is going on inside your body and to keep an eye on health status.
The guys who stay all year round on gear with no breaks are not wise.
==================
We do not promote the use of anabolic steroids without a doctor's prescription. The information we share is for entertainment purposes only.THIS IS NOT MEDICAL, LEGAL OR ANY OTHER TYPE OF ADVICE. SIDE EFFECTS ARE UNKNOWN SO THEREFORE DEATH AND SERIOUS BODILY INJURY MAY OCCUR. ONLY USE DRUGS, SUPPLEMENTS, OR EXERCISE UNDER YOUR DOCTORS DIRECTION.
==================