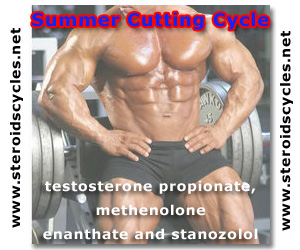 Cutting Cycle, Pre-Contest Cycle, Summer Steroid Cycle
TESTOSTERONE PROPIONATE,METHENOLONE ENANTHATE,STANOZOLOL
SteroidsCycles.Net presents you another cutting cycle for summer which will make you look hard and solid. Don't underestimate importance of diet and cardio. Best time for cardio is considered in the morning on empty stomach for 30 minutes. 3 times per week will be enough.
This cycle consists of 3 products: Testosterone Propionate, Methenolone Enanthate (Primobolan tabs) and Stanozolol.
Testosterone Propionate So how exactly does Testosterone build muscle? Well, Testosterone promotes nitrogen retention in the muscle (6), and the more nitrogen the muscles holds the more protein the muscle stores, and the bigger the muscle gets. Testosterone can also increase the levels of another anabolic hormone, IGF-1, in muscle tissue (7). IGF-1 is, alone, highly anabolic and can promote muscle growth. It is responsible for much of the anabolic activity of Growth Hormone (GH). IGF-1 is also one of the few hormones positively correlated with both muscle cell hyperplasia and hyperphasia (this means it both creates more muscle fibers as well as bigger fibers). All of this leads me to speculate that for pure mass, IGF-1, GH, and Testosterone would be a very effective combination. Testosterone also has the amazing ability to increase the activity of satellite cells(8). These cells play a very active role in repairing damaged muscle. Testosterone also binds to the androgen receptor (A.R.) to promote all of the A.R dependant mechanisms for muscle gain and fat loss (9), but clearly, as we´ve seen, this isn´t the only mechanism by which it promotes growth.
Methenolone Enanthate popularity stems from the fact that it is the only steroid that seems to work well on a low calorie diet (making it a pre-contest drug of choice) and side effects are rarely a problem since it is relatively non toxic, low in androgens and it does not convert to estrogen (aromatize) therefore estrogen related side effects are not an issue. In addition to this it seems to have a positive effect on the immune system (thus its popular use in Aids patients) and the fact that it adds primarily lean mass leads to a strengthening of the whole body system.
Stanozolol Tablets is a potent anabolic, but also binds to the progesterone receptor and to LAGS in the liver. In muscle tissue, it has been found to stimulate immediate-early gene expression by a means independent of the AR. Stanozolol can stimulate the production of prostaglandin E2 and the matrix metalloproteases collegenase and stromelysin in skin fibroblasts. It has been found to inhibit growth factor stimulated DNA synthesis and fibroblasts.
Very important aspect is taking Liv 52 during this cycle to protect your liver. Don't forget this.
Weeks

Test Propionate

Methenolone Enanthate

Stanozolol Tablets

Nolvadex

1-12

100Mg/EOD

1-10

100Mg/EOD

9-14

40Mg/ED

1-14

14-17

10Mg/ED

20Mg/ED

ED – every day, EOD – every other day

Download PDF Version (print version)
to open it you will need Adobe Reader
(C) All rights reserved by SteroidsCycles.Net, you can use this article only with source indication.
We do not promote the use of anabolic steroids without a doctor's prescription. The information we share is for entertainment purposes only.

THIS IS NOT MEDICAL, LEGAL OR ANY OTHER TYPE OF ADVICE. SIDE EFFECTS ARE UNKNOWN SO THEREFORE DEATH AND SERIOUS BODILY INJURY MAY OCCUR. ONLY USE DRUGS, SUPPLEMENTS, OR EXERCISE UNDER YOUR DOCTORS DIRECTION.
Keep in mind that steroids are not magic and in order to get results user must train correct and hard, eat clean and keep right balance of carbs, protein and fats.
Once per year bloodwork must be done in order to see what is going on inside your body and to keep an eye on health status.
The guys who stay all year round on gear with no breaks are not wise.